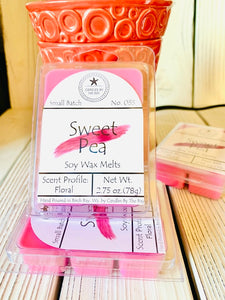 Sweet Pea Soy Wax Melts
Bring on Spring and all it's florally goodness. While I'm not a big fan of florals- at least not the grandma perfumey types, I love me some Sweet Pea. The perfect touch of sweetness added to the floral notes are intoxicating and perfect to bring in Spring! A blend of sweet pea, juicy pear, and water lily. 
Scent Profile: Floral
Instructions For Use: Break off a cube or two and place into a UL listed or tealight warmer only, not for use on stovetop. Discontinue use when fragrance is no longer detectable. Not for human consumption and please keep our if the reach of kids and pets as they might mistake the irresistible scent for food and eat them. 
Approx. Net Wt.- 2.75-3 oz. 
---
We Also Recommend
---