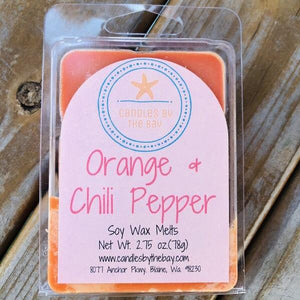 Orange & Chili Pepper Soy Wax Melts
Sassy, strong, and bold! Orange and Chili Pepper is a great fusion of true orange with a spicy kick of chili pepper. The notes, in my opinion complement each other and blend well to create a great fragrance. 
This fragrance oil is infused with natural essential oils, including orange.
Scent Profile- Citrus
Note Profile:
Top: Orange, Chili
Middle: Citrus
Base: Green Leaves
Instructions For Use: Break off a cube or two and place into a UL listed or tealight warmer only, not for use on stovetop. Discontinue use when fragrance is no longer detectable. Not for human consumption and please keep our if the reach of kids and pets as they might mistake the irresistible scent for food and eat them. 
Approx. Net Wt.- 2.75-3 oz. 
---
We Also Recommend
---