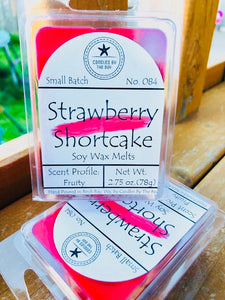 Strawberry Shortcake Soy Wax Melts
You know summer is coming when strawberry season starts and the grocery store has displays of shortcakes everywhere. It's that time of year again and we love them so much we decided to make melts so everyone can have that wonderful sweet scent fill their home any time they want. Notes of fresh juicy strawberries with cake and lots of whipped cream- life is complete! Infused with orange essential oil. 
Scent Profile: Fruity
Note Profile:
Top: Strawberry 
Middle: Cake
Base: Vanilla, Cream 
Instructions For Use: Break off a cube or two and place into a UL listed or tealight warmer only, not for use on stovetop. Discontinue use when fragrance is no longer detectable. Not for human consumption and please keep our if the reach of kids and pets as they might mistake the irresistible scent for food and eat them. 
Approx. Net Wt.- 2.75 oz. 
---
We Also Recommend
---