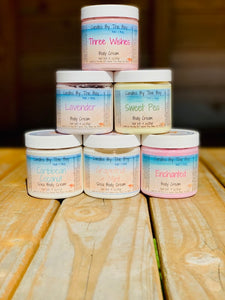 Shea Body Cream
This luxurious moisturizing cream is packed full of skin loving ingredients. It's packed in a recyclable Plastic tub as it's a bit thicker than your traditional lotion. Our Shea moisturizing creams are good for your face and body. Feed your skin! 
Net Weight-4 oz. 
Available Scents
Autumn Harvest- 
Grapefruit + Mint- ripe, tangy grapefruit fused with garden-fresh mint. Hints of lavender and rhubarb add depth and complexity to this fresh fragrance. Citrus essential oils enhance this bold scent, while mint, thyme, and bergamot essential oils give it an herbal counter to the punchy, juicy grapefruit.
Caribbean Coconut-  A tropical blend of fresh coconut milk and creamy vanilla- a perfect summer escape.
Cherished-A delicious blend of apples, fresh peaches, rose, creamy vanilla, and a touch of musk. This is a house favorite! 
Eucalyptus Spearmint- An invigorating and refreshing blend of peppermint and spearmint with light citrus notes. Contains Cornmint, Eucalyptus, Nutmeg, and Spearmint Essential Oils
Top & Middle Notes: lavender, jasmine, rose, pineapple, and citrus notes
Bottom Note: woody, musky, and cooling eucalyptus notes
Lavender- A calming, relaxing blend with top notes of bergamot, middle notes of lavender, all resting on a base of cedar. This is infused with essential oils of lavender, orange, lemon, and cedar wood. 
Three Wishes- This playful fruity blend has top notes of sparkling champagne and quince, middle notes of pink prosecco and peonies,and bottom notes of plum blossom and amber - a beautiful combination. 
Caramel Woods-  This luscious blend features notes of juicy plum and whipped caramel wrapped in artisan bourbon vanilla and jasmine blossoms. Warm and inviting. 
Blushed Orchid- This fragrance has notes of lemon, lime, cucumber, tuberose, rose, clove, coconut, balsam, and musk. Worthy of a high end perfume line, it's very intriguing. 
Enchanted- The ultimate blend of fruit and floral. It starts with top notes of apple, luscious peach, and ripe grapefruit that give way to beautiful middle notes of apple blossom and hydrangea. The vanilla and hint of musk in the base balance out the sweetness. 
Ingredients:  Water, Rice Bran Oil, BTMS-50, Avocado Oil, Coconut Oil, Glycerin, Shea Oil, Meadowfoam Seed Oil, Cyclomethicone, Stearyl Alcohol, Sodium Lactate, Chammomile Extract, Tapioca Starch, Optiphen, Vitamin E Oil, Fragrance, (colorant ingredients for each scent may be different and will be added here on the label). 
---
We Also Recommend
---