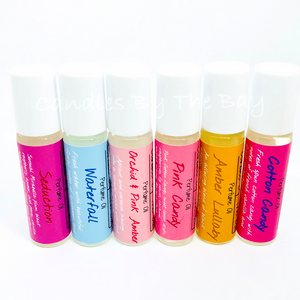 Perfume Oil
These fabulous perfume oils will delight your senses. With choices from fun and fruity to downright seductive we are sure you will find one that you love. These also work great layering to make a new and unique fragrance. Made with lightweight oils and fragrance our perfume oils will not leave a greasy feel on your skin and absorb in quickly. Compact bottles with a roll on applicator make it easy to carry with you to apply whenever you need to add a little scent to your skin.  Below are the descriptions of our current scents and we will be adding more in the future. 
Ingredients:  Caprylic/Capric Triglyceride(Coconut Oil), Fragrance, Meadowfoam Seed Oil
Net Weight- 1 bottle .35 oz. 
Amber Lullaby-  An alluring blend of black cherry, creme anglaise, vanilla and sandalwood. 
Cotton Candy- Fresh sounds cotton candy with notes of French vanilla and fresh strawberries; fun and playful. 
Marshmallow- The scent of sticky sweet marshmallow with light hints of bonfire, enchanting! 
Orchid & Pink Amber- Notes of apricot and verbena  trailing into sensual orchid with pink amber and white woods to round out this beautiful blend. 
Pink Candy-  Notes of pink cotton candy, sweet lemon drops, raspberries, fig leaves, caramel, Sicilian orange, Barbe-a-Papa, Lily of the Valley, and powdery vanilla musk. Playful, mischievous, and romantic. 
Seduction- Sensual Mirabella plum, black raspberry amber, lush peony, vanilla bean, musk and fresh spun cotton candy come together to make this seductive and sensuous fragrance.
Waterfall- Fresh water notes lead to beautiful floral notes of cyclamen and freesia, a very nice, clean floral. 
Instructions: To apply roll onto your skin until you've achieved desired scent. We recommend applying to pulse points such as wrists, throat area, and behind ears. Do not apply directly to clothing as some oils can stain. 
---
We Also Recommend
---