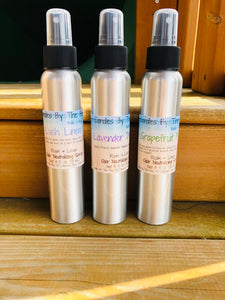 Room/Linen Sprays
Our odor neutralizing room and linen sprays are a great addition to your home fragrance lineup. Is your closet smelling like dirty socks? Freshen it up with our grapefruit & Mint spray. Want to freshen your bedding and get a good nights sleep? Spritz some lavender dreams on your pillows and you'll be sleeping like a baby. Our sprays not only make your room and linens smell great they also have odor neutralizing properties to kill the bad odors. Great for freshening up pet bedding, gym bags, and just about anything that needs a spritz of freshness. Our sprays are packaged in 4 Oz. aluminum spray bottles. All of our sprays are paraben and phthalate free, cruelty free,  gluten free, and sulfate free- nothing but awesome smelling goodness. 
Net- 4 fl. Oz. 
Instructions for use: Spray as desired into the air, do not spray on your skin, eyes, etc. not for use as a body spray. Hold bottle approx. 12" from linens/fabrics. While we've tested our sprays for staining on multiple fabric types we do recommend that you test yours in an inconspicuous area before treating exposed areas. 
SCENT DESCRIPTIONS
GRAPEFRUIT & MINT- Ripe, tangy grapefruit fused with garden-fresh mint. Hints of lavender and rhubarb add depth and complexity to this fresh fragrance. Citrus essential oils enhance this bold scent, while mint, thyme, and bergamot essential oils give it an herbal counter to the punchy, juicy grapefruit.
LAVENDER DREAMS- Classic French vanilla pairs beautifully with creamy vanilla. The sweetness compliments the herbal earthy notes of the lavender to create a beautiful calming scent. 
LUSH LINEN- A luxurious sun-bleached linen wrapped in lemon and white tea. Aromas of linen and lily of the valley enhance the clean sweetness, while sandalwood and vanilla balance the airy, ozonic quality of this fragrance. Infused with patchouli essential oil. 
---
We Also Recommend
---