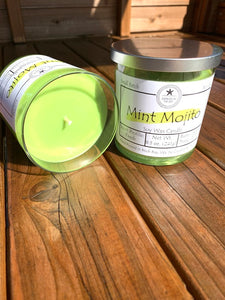 Mint Mojito Soy Candle
Mint Mojito is the perfect summertime scent. There's nothing better than sitting on the back porch after work with a freshly muddled mint Mojito in hand watching the world go by. It's the perfect fusion of fresh muddled mint, tart squeezed lime,and hints of tropical sweetness from juicy pineapple, jasmine and rum of course! This fragrance is also available in wax melts. 
Scent Profile- Fresh
Note Profile:
Top: Mint, Lime 
Middle: Pineapple, Jasmine 
Base: Rum 
Instructions for use: Twim wick to 1/4"-1/8" before lighting each time. We recommend a wick trimmer for this but nail clippers also work great. Keep candle out of the reach of children and pets and away from flammable materials such as curtains. Burn your candle for no longer than 4 hours at a time and make sure the area is free of drafts. We know it is tempting but this candle is not for human consumption.
All of our candles are made with 100% soy wax, no additives besides fragrance and color. If you see white star shaped spots in your candles that looks like discoloration that is called frosting, it's the nature of natural soy wax, a good way to tell if you're getting all soy. 😊
Net Weight- 8.5 oz. 
---
We Also Recommend
---