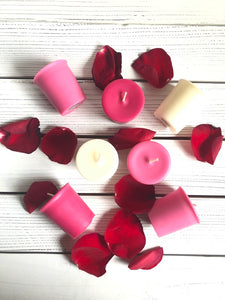 Votive Candles
By popular request we have finally added Votive Candles to our product lineup. These little candles are perfect for trying out scents and are great for bathrooms and other smaller spaces. Our Votive candles are made with a soy blend wax and have a burn time of 20-25 hrs. Votives do not come in containers but need to be placed in a votive holder prior to burning as they aren't designed to burn freestanding. Below you will find our scent list. If you don't see what you're looking for check back as we will be adding more scents regularly. 
Votives are sold in 2 and 4 packs. We will ADI fo mixes sets just let us know what scents you want in comments on your order, if not specified or you want to be surprised we will pick for you. 
Scents
Vanilla Bean- Rich creamy vanilla 
Pink- A blend of black cherry, creme anglaise, creamy vanilla, and warm sandalwood. 
Enchanted-  Top notes of apple, luscious peach, and ripe grapefruit that give way to beautiful middle notes of cherry blossom and hydrangea. The vanilla and hint of powder in the base balance the sweetness out.
Salty Air- Notes of crisp ozone, salty sea spray, seaweed, sun-weathered driftwood, and a hint of water lily. 
---
We Also Recommend
---