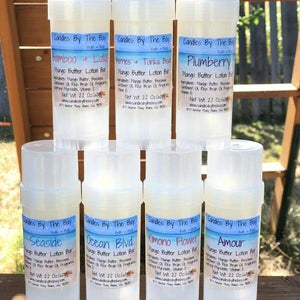 Mango Butter Lotion Bars
Lotion bars are the greatest invention, EVER! Lotion bar, butter bar, body balm... there is many names for it but I chose Lotion Bar since it's purpose on your skin is very similar, to moisturize. Our lotion bars are packages in large tubes- kind of like a lip balm tube but way, way bigger, with a screw on lid. Picture a big lip balm style stick- but it's for your body. I know you're know saying Aha! I get it! You don't have to worry about getting your hands oily or slick because you don't have to touch it, just simply rub the bar onto your skin, and wahlah, you've been moisturized.
Youll love the on the go portability too. There's nothing worse than being out camping and trying to rub standard lotion from a bottle onto your skin. Now you can just rub the tube around a bit and you're good to go.
These bars have been specially formulated to stay firm in the tube but to melt upon contact with your skin. Packed with skin loving ingredients like mango butter, beeswax, sunflower oil, and rice Bran Oil your skin will feel smooth and nourished. Available in several fragrances, we are sure you'll find one you love. 
Ingredients- Mango Butter, Beeswax, Sunflower Oil, Rice Bran Oil, Fragrance, and Vitamin E. 
Chocolate Amber- unexpected top note of refreshing lavender combines with the boldness of tangerine to make for an exciting first impression, while the deeper base notes of dark chocolate and musky amber reveal a softer side.
Lavender- A relaxing herbal scent reminiscent of a field of lavender in bloom. 
Plumberry- Notes of tart cranberries and juicy ripe velvet plums mingle together with frost like notes to create this unique fruity fragrance. 
Bamboo & Lotus- grapefruit zest, sweet, ripe mango, and sandalwood blend together to make this clean type fragrance. 
Amour- French tulips, pink champagne, water lilies. and a creamy French vanilla and amber base will make you fall in love with this scent. 
Berries & Tonka Bean- This is a house favorite! A luscious blending of pink berries, bergamot, pikake, musk, sugar cane, and tonka beans. The tonka bean blends perfectly with the fruity and floral notes to crest a complex and alluring scent. 

Ocean Blvd.- I can't say enough of about this scent- it's only the best beach scent ever. It's fruity, sugary, with the right hints of floral to create a memorable beach scent that'll make you wish you were there. This scent is also available in our artisan soaps coastal Collection. 

Seaside-  Fresh ocean scent with notes of daylily, sea spray, watery florals, and musk. This fragrance is also available in our artisan soap line. 
Kimono Flower- This Asian inspired fragrance begins with mandarin and bergamot blended with soft jasmine petals and juicy raspberry; the heart is ylang ylang, sweet gardenia, and pink orchid; and the base is rounded out with nuances of white moss, creamy amber, and vetiver.
Instructions for use: simply unscrew cap and apply lotion bar liberally to your skin. Great on general body area and feet. No need to rub it in as it will soak into your skin but if you're impatient like me then by all means rub away. 
Net Wt.-2.2 oz. 
---
We Also Recommend
---