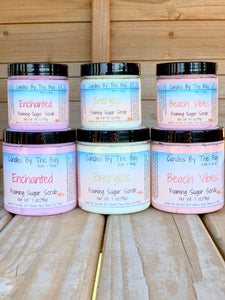 Foaming Sugar Scrubs
I'm a big fan of sugar scrubs. You'll see that we carry two different types of scrubs- this one and a moisturizing sugar scrub. The differences are that this one is made with our whipped soap so you get to clean AND exfoliate at the same time. If you're one that has no time to dilly dally in the shower then this is ideal. The other one isn't soap based and is meant to be used after you've washed, as the scrub turns to a lotion once it's applied and meets water. A little goes a long way with these creamy scrubs. The current available scents are listed below. Keep a lookout as we will be adding more. These scrubs also pair with our body sprays and spray able lotions for extra layers of scent after your shower. 
Available in two sizes, 3.5 oz. and 7 oz.  and are packages in recyclable plastic jars. 
SCENT DESCRIPTIONS
BEACH VIBES- A tropical blend with top notes guava and tart cranberries, a heart of fresh pineapple, cherries, and sweet strawberries on a base of juicy peach and creamy vanilla.
ENCHANTED- A fruity concoction with top notes of apple, peach, and grapefruit leading to a heart of cherry blossom and hydrangea on a base of creamy vanilla with a hint of powder. Infused with orange and grapefruit essential oils. 
ENERGIZE- An energizing and refreshing blend of lemon, grapefruit, lime, cucumber, pineapple, jasmine, blackberry, and fizzy champagne. 
Instructions For Use: Apply as desired to wet skin and rub on until sugar is melted, rinse thoroughly. 
Ingredients: Sucrose, Sodium Cocoyl Isethionate, Vegetable Glycerin, Cocomidopropyl Betaine, Water, Avocado Oil, Apricot Kernel Oil, Fragrance, Phenoxyethanol, Caprylyl Glycol, Isopropyl Alcohol, Skin safe colorant varies upon product. 
---
We Also Recommend
---