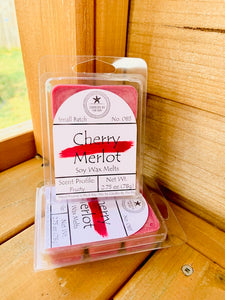 Cherry Merlot Soy Wax Melts
A fun twist on a classic black cherry scent. Deep, dark and luscious with top notes of black currant and apple that lead to a heart of red wine and black cherry. Aged oak and amber base notes highlight the merlot, while vanilla balances the sweet finish. Patchouli and nutmeg essential oils enhance the wood and spice notes for added depth.
This fragrance oil is infused with natural essential oils, including patchouli, nutmeg, and davana.
Scent Profile-Fruity 
Note Profile:
Top: Black Currant, Apple
Middle: Black Cherry, Red Wine, Clove
Base: Oak, Amber, Vanilla
Instructions For Use: Break off a cube or two and place into a UL listed or tealight warmer only, not for use on stovetop. Discontinue use when fragrance is no longer detectable. Not for human consumption and please keep our if the reach of kids and pets as they might mistake the irresistible scent for food and eat them. 
Approx. Net Wt.- 2.75 oz. 
---
We Also Recommend
---