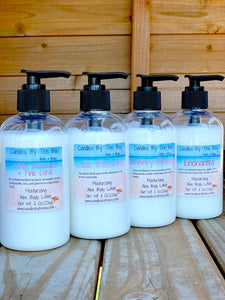 Moisturizing Aloe Lotion
Our skin is our biggest organ and we need to keep it hydrated and healthy. Our handmade aloe lotions are excellent food for your skin and don't leave a greasy afterfeel. Made with skin loving oils, vitamins, and extracts that are great for all skin types you're sure to find one you will love. There are no artificial colorants in our aloe lotion. Pamper your skin! 
Instruction for use: Our lotions are packaged in a round recyclable bottle with a pump top. Not for consumption. Keep out of the reach of children and pets. Apply liberally to your skin as needed and rub in. 
Ingredients: Water, Aloe Vera Liquid; and(Citric Acid, Sodium Benzoate, Potassium Sorbate, Sodium Sulfite), Avocado Oil, Rice Bran Oil, BTMS-50, Glycerin, Sweet Almond Oil, Meadowfoam Seed Oil, Stearyl Alcohol, Oat Extract, DL Panthenol, Optiphen, Buckthorn Extract, Calendula Extract, Sunflower Extract, Aloe Extract, Irish Moss Extract, Marshmallow Root Extract, Vitamin E, Fragrance, Cyclomethicone, Tapioca Starch. 
All of our lotions are all made with the same recipe but a couple have different botanical extracts in them from our usual extract blend to provide different attributes. Those are noted below in the fragrance descriptions. 
Net Weight: 8 oz. 
FRAGRANCE DESCRIPTIONS
Enchanted- A wonderful fragrance of mixed fruits, florals, and citrus notes. The top notes of Apple, juicy peach, and tangy grapefruit are balanced beautifully with middle notes of cherry blossom and hydrangea. The vanilla and powdery notes of the base bring it all together and balance the sweetness. This lotion has green tea extract as it's botanical. 
Lilac- The scent of fresh lilac blossoms in bloom on a sunny day. This lotion was originally formulated for my mom. While being ummm, young at heart she was wanting something to combat that skin aging stuff so we've added Dulse and Orchid extract in this recipe along with Oat and buckthorn extract. 
Passionfruit Pineapple- A tropical delight with notes of juicy pineapple, fresh Passionfruit, and guava.
The Perfect Man- Fresh, daring notes of Japanese grapefruit, bergamot, and lemon; followed by middle notes of peppercorn, ginger, jasmine, aquatic marine notes, and a hint of peppermint; sitting on expensive base notes of natural patchouli, cedar, vetiver, labdanum, and frankincense. 
Pacific Coast- The scent of a fresh ocean breeze with a top note of fresh, apple, melon, orange, and bergamot. The heart blends lavender and bois de rose leading to a base of woody violet and musk. Infused with orange essential oil. 
Vanilla Bean- A warm blend of fresh vanilla bean, rich caramel and soothing cream. Compare to Vanilla Bean Noel from Bath & Body Works 

Cotton Candy- A classic! The sweet scent of fresh spun cotton candy with notes of fresh strawberries and rich, creamy vanilla. 
Cherry Blossom- A sensual blend of pink cherry blossoms and delicate mimosa flower petals on a warm base of vanilla, rinka bean, and oriental woods. Compare to BBW Japanese Cherry Blossom. 
---
We Also Recommend
---