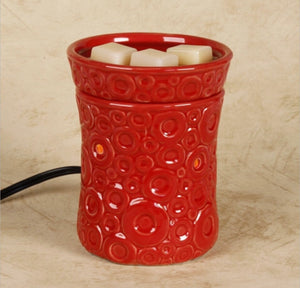 Wax Warmer-Red Circles
Turn any room into a fragrant haven with the addition of one of our wax warmers. With several to choose from we are sure you will find something that will match your decor.
This warmer works great with our soy wax melts and features a removable wide dish that can hold several cubes at a time. You can even add different scents together to create your own unique fragrance blend. Features an on/off thumb wheel switch and a power light on the base so you'll know when your warmer is on.
This tall cylindrical warmer is bright red and features a circle pattern. It's powered from a standard 120V outlet and is heated with a replaceable 25W Halogen bulb, bulb is included with warmer. This cute warmer also has some holes in the base design so light comes through making it an excellent light for some ambiance. Looking for a replacement bulb? We have you covered, simply look in the accessories collection for the 25W Halogen Bulb #GU-10C
Measurements: 5.5" H by 4.375" W
Instructions For Use:  Place desired amount of wax melts into the warmer dish and turn unit on. Full heat should be obtained in about 30 minutes. Turn unit off when not in use. Keep out of the reach of children's and pets, keep in an area free from curtains or anything that might fall on or into it.  Do not touch when heated as base and warmer might be hot. Discontinue use and replace wax is below 1/4" in dish. To clean dish you can wipe it out and wash with soap and water or pop it in the freezer for a few minutes and the hardened wax will pop right out. 
---
We Also Recommend
---