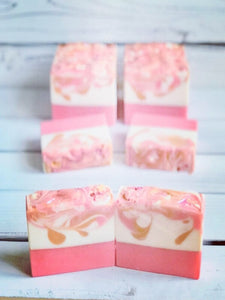 Pink! Coconut Milk Soap
Pink! This beautiful Soap is scented with a blend of black cherry, creme anglaise, creamy vanilla, and warm sandalwood. It's a very pretty scent and goes with the pink, gold, and cream colors in this artisan bar. Made with premium ingredients that your skin will love, locally sourced and organic where possible. Compare our Pink to VS Amber Romance. This fragrance is also available in soy wax melts and candles. 
Instructions For Use: To get maximum longevity and enjoyment from your handmade soap we recommend placing it on a draining soap dish out of water and allowing it to dry thoroughly between use. Not for consumption. Keep out of the reach of small children and pets. 
Ingredients: Lard, Coconut Oil, Water, Olive Oil, Sodium Hydroxide, Shea Butter, Avocado Oil, Castor Oil, Fragrance, Coconut Milk, Aloe Vera Leaf Juice, Kaolin Clay, Colloidal Oatmeal, Silk Amino Acids, Sweet Almond Oil, Titanium Dioxide, Mica, Iron Oxide, Silica, Biodegradable Glitter. 
Approx. Net Wt.- 4.5-5 oz. all of our artisan soaps are made in small batches and cut by hand so size may vary. 
---
We Also Recommend
---