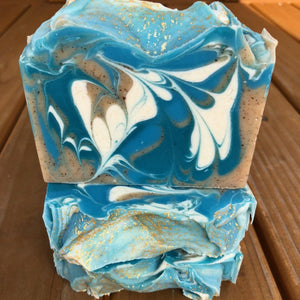 Ocean Blvd. Coconut Milk Artisan Soap
Ocean Blvd. is my personal favorite out of all of the soaps we offer. Not only is the scent amazing but the blend of butters and oils produce a decadent, creamy lather. The walnut shell powder offers some light exfoliation but is still gentle on the skin.  This triple butter coconut milk soap is scented with an amazing blend of juicy fruits, sweet sugars, and amazing florals. This has got to be the best beach scent....EVER! The sand in the soap has ground walnut shells for some exfoliation. 
Your skin will love this soap with Shea, Cocoa, and Mango butters.
Instructions For Use: To get maximum longevity and enjoyment from your handmade soap we recommend placing it on a draining soap dish out of water and allowing it to dry thoroughly between use. Not for consumption. Keep out of the reach of small children and pets. 
Ingredients: Sustainably Harvested Palm Oil, Olive Oil, Water, Coconut Oil, Sodium Hydroxide, Avocado Oil, Fragrance, Shea Butter, Castor Oil, Cocoa Butter, Mango Butter, Coconut Milk, Kaolin Clay, Sweet Almond Oil, Colloidal Oatmeal, Silk Amino Acids, Mica, Titanium Dioxide, Iron Oxide, Tin Oxide, Uktramarine Blue, Chromium Oxide Green, Biodegradable Glitter. 
Approx. Net Wt.-One bar-4.5- 5 oz. All of our soaps are hand cut so size might vary from bar to bar
---
We Also Recommend
---