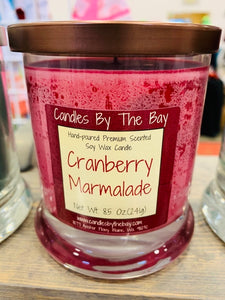 Cranberry Marmalade Soy Candle
Bring on the holidays! Did you know that in the 17th century sailors were given cranberry rations to protect against scurvy and Native Americans used them for medicinal purposes and as dyes, as well as for eating. Cranberries have excellent medicinal properties. Now you won't get any of those from burning our candle, just the wonderful scent. Cranberry marmalade is a luscious blend of tart cranberries, spiced apples, and fresh California orange peel.
This fragrance oil is infused with natural essential oils, including Cinnamon, Clove, and Orange.
Note Profile:
Top: Orange Peel, Cinnamon
Middle: Cranberry, Apple, Sugar
Base: Clove, Wood
 Scent Profile- Gourmand 
Instructions for use: Twim wick to 1/4" before lighting each time. We recommend a wick trimmer for this but nail clippers also work great. Keep candle out of the reach of children and pets and away from flammable materials such as curtains. Burn your candle for no longer than 4 hours at a time and make sure the area is free of drafts. We know it is tempting but this candleis not for human consumption.
All of our candles are hand poured in small batches to ensure the best quality and scented with premium fragrsnces and essential oils. 
Net Wt. 8.5 oz. 
---
We Also Recommend
---