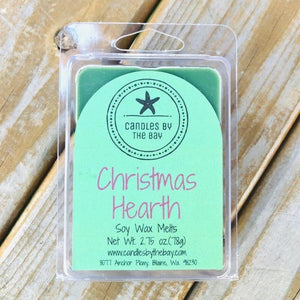 Christmas Hearth Soy Wax Melts
Anytime you want to bring the nostalgic scents of Christmas Eve to your nose you can with our Christmas Hearth melts. A classic holiday scent that will bring back memories of a cozy evening sipping wine by the fire while the aroma of orange and spice notes wafts gently from the kitchen, fir and pine play prominently in your senses from the festively adorned, twinkling Christmas Tree nearby, and an earthy smokiness from the fireplace that gently dances and crackles in front of you.
This fragrance is infused with with natural essential oils, including Orange, Cinnamon, Clove, Vetiver, and Pine.
Note Profile:
Top: Orange peel, Cinnamon, Ginger
Middle: Cypress, Clove
Base: Vetiver, Pine, Fir Balsam
Instructions For Use: Break off a cube or two and place into a UL listed or tealight warmer only, not for use on stovetop. Discontinue use when fragrance is no longer detectable. 
Approx. Net Wt.- 2.75-3 oz. 
---
We Also Recommend
---