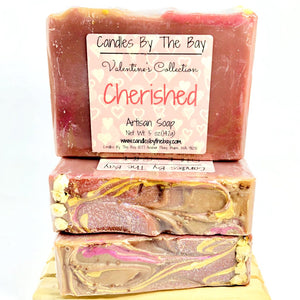 Cherished Coconut Milk Soap
Sometimes when making cold process soap things just don't go as planned. Since I am so in love with this fragrance I used it in many products- candles, melts, Shea Body Cream, and soap. It performed beautifully in all of our products and I expected no different with the soap. Well, I was wrong! The beautiful swirls of peach, pink and red I had envisioned and saw when I first poured it quickly developed into this muddled brick red color, only leaving athe mica drizzles I did on top to represent my colors. It's a beautifully scented soap with amazing properties but isn't quite up to my standard of design so I'm offering here at a discounted price. The top is embellished with cranberry Seeds and mini jasmine flower buds. Scented with a delightful blend of apple, peach, rose with a touch of musk- compare our Cherished to Bath and Body Works Be Enchanted.
Ingredients: Olive Oil,  Sustsinably Harvested Palm Oil, Water, Coconut Oil, Sodium Hydroxide, Castor Oil, Fragrance, Sweet Almond Oil, Coconut Milk, Kaolin Clay, Colloidal Oatmeal, Titanium Dioxide, Mica, Tin Oxide, Iron Oxide, Tin Dioxide, Manganese Violet,  Cranberry Seeds, Jasmine Flower Buds, Ecofriendly Glitter.
Approx. Net Wt.-4.5-5.5 oz. We hand cut all of our soaps so sizes may vary. 
---
We Also Recommend
---