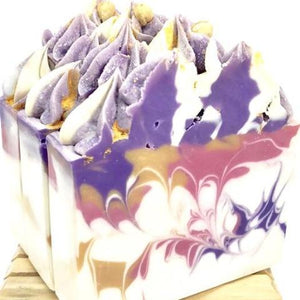 Blushed Orchid Coconut Milk Soap
This beautifully designed and luxuriously scented frosted soap has notes of lemon, lime, cucumber, tuberose, rose, clove, coconut, balsam, and musk. There is a jasmine bud adorning the peak of each bar. This scent belongs in a designer perfume line, it's truly amazing. This is a must have for anyone that loves floral fragrances and the soap is pretty nice too. 😊
Instructions For Use: To get maximum longevity and enjoyment from your handmade soap we recommend placing it on a draining soap dish out of water and allowing it to dry thoroughly between use. Not for consumption. Keep out of the reach of small children and pets who might take it's awesome scent as a good product and attempt to eat it. 
Ingredients: Olive Oil, Coconut Oil, Lard, Water, Sodium Hydroxide, Shea Butter, Avocado Oil, Castor Oil, Fragrance, Coconut Milk, Kaolin Clay, Sweet Almond Oil, Colloidal Oatmeal, Mica, Titanium Dioxide, Iron Oxide, Tin Oxide, Jasmine Flower, Glitter. 
Approx. Net Wt.-5.5-6 oz. All of our soaps are cut by hand so sizes may vary.
---
We Also Recommend
---