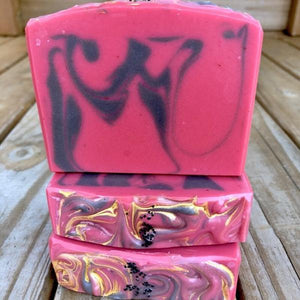 Apple Cinnamon Coconut Milk Soap
Fall is here and the first scent that comes to me is apples and cinnamon. It's such a great combination and takes me back to my grandma baking apples in the oven. It's also a great scent for a fall soap. No bakery notes in this scent Just the aroma of red, juicy McIntosh apples sprinkled with fresh ground cinnamon sticks. Get your fall skincare routine started right with this lovely soap. We also have an Apple cinnamon aloe lotion available. 
Instructions For Use: To get maximum longevity and enjoyment from your handmade soap we recommend placing it on a draining soap dish out of water and allowing it to dry thoroughly between use. Not for consumption. Keep out of the reach of small children and pets. 
Ingredients: Lard, Water, Coconut Oil, Olive Oil, Sodium Hydroxide, Shea Butter, Avocado Oil, Castor Oil, Fragrance, Sunflower Oil, Coconut Milk, Sweet Almond Oil, Coconut Milk, Kaolin Clay, Colloidal Oatmeal, Mica, Poppy Seeds, Polyester 3, Iron Oxide, Acid Red 92, Titanium Dioxide, Tin Dioxide.
Approx. Net Wt.-One bar-4.5- 5 oz. All of our soaps are hand cut so size might vary from bar to bar
---
We Also Recommend
---