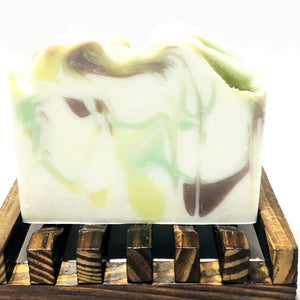 Anjou Pear
This soap smells just like a fresh juicy pear picked ripe off a tree, fruity yet fresh. I live the smell of pears and this doesn't disappoint, the soap is great as well.
Instructions For Use: To get maximum longevity and enjoyment from your handmade soap we recommend placing it on a draining soap dish out of water and allowing it to dry thoroughly between use. Not for consumption. Keep out of the reach of small children and pets who might take it's awesome scent as a good product and attempt to eat it. 
Ingredients: Lard, Water, Coconut Oil, Lye, Olive Oil, Rice Bran Oil, Castor Oil, Fragrance, Kaolin Clay, Titanium Dioxide, Mica, Iron Oxides, Bis(Glycidoxyphenyl)propane / Bisaminomethylnorbornane copolymer, Aluminum Hydroxide, Yellow 10, Chromium Oxide Green. 
Approx. Net Wt.- 4.5-5 oz. All of our soaps are hand cut so the weight will vary. 
---
We Also Recommend
---