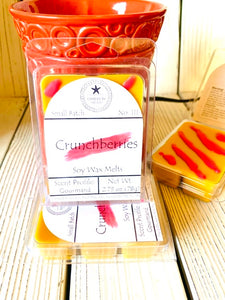 Crunchberries Soy Wax Melts
This scent is just fun, not to mention it makes your rooms smell like you've just dove head first into a big bowl o' captain something or another cereal. It smells just like when you open that box and smell all that sugar crusted cereal in there- it's heavenly and takes me back to my childhood. The complex note profile comes together to recreate the scent dang near perfectly. 
Scent Profile: Gourmand 
Note Profile:
Top: Strawberry, Grape, Wild Berries
Middle: Bakery, Buttercream 
Base: Raspberry, Vanilla Sugar, Plum, Tonka Bean, Warm Maple
Instructions For Use: Break off a cube or two and place into a UL listed or tealight warmer only, not for use on stovetop. Discontinue use when fragrance is no longer detectable. Not for human consumption and please keep out of the reach of kids and pets as they might mistake the irresistible scent for food and eat them. 
Approx. Net Wt.- 2.75 oz. 
---
We Also Recommend
---